Maintenance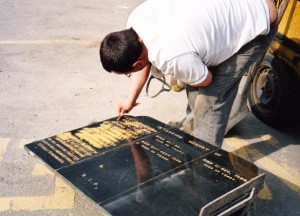 We specialise in the maintenance of monuments, memorials and kerbing-surrounds in Mount Jerome Cemetery.
This includes the resetting and leveling of kerb-surrounds, the addition of a concrete border which is a six by four inch pathway around the kerbing and headstone which prevents clay falling away from the kerbing and headstone thereby eliminating the likelihood of holes developing beneath the surround of the grave/kerb-surround.
Chippings may be added to cover the plot which would include a membrane to prevent weeds growing among the chippings.
We supply granite, marble, limestone or coloured chippings in pure colour or mixed colour form. This is a very inexpensive way to maintain grave plot and the grave will always look well.
Many graves in Mount Jerome Cemetery are maintained by planting. We sometimes allocate a small area for planting and the remainder for chippings (see gallery). This requires a small kerb division and gives family members an opportunity to have their preferred flowers growing on the grave.
ALL ESTIMATES ARE FREE, Tel 0892255569
As cemeteries have different rules, we would appreciate if you would call us on 01 496 1987 or submit your query via our contact form to help us provide you with an accurate estimate.
Additional inscriptions on existing headstones from €2 per letter.
New headstones from €399 (including full inscriptions)
Renovations from €75
Restorations from €45
Marble hearts from €120
Statues from €95